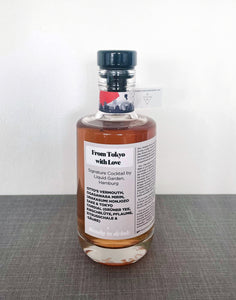 Exclusive cooperation with Liquid Garden from Hamburg. Enjoy the selected signature drink that comes to you directly from the bar.
Signature Bottled Cocktail by Liquid Garden created by Chloé Merz and Charles Kanteh

Otto's Vermouth

Ogasawara Mirin
Urakasumi Honjozo Sake
Tokyo Cordial (Green Tea, Cherry Blossom, Plum, Citrus Peel & Acid)
The bottle holds a generous portion of 200 ml. Poured over ice, it can also be served as two drinks.