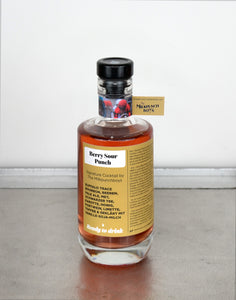 Exclusive cooperation with The Milkpunchboys from Berlin. Enjoy the selected signature drink that comes to you directly from the bartenders Tarek Nix & Andreas Andricopoulos.
Signature Bottled Cocktail by The Milkpunchboys

Buffalo Trace Bourbon
Berry
Pale Ale
Met
Black tea
Carrot, honey
Port wine
Lime
Toffee
Clarified with vanilla soy milk.
The bottle holds a generous portion of 200 ml. Poured over ice, it can also be served as two drinks.